I am happy to say that my co-edited volume (with Dirk Nabers and David B. MacDonald) on "Populism and World Politics: Exploring Inter- and Transnational Dimensions" has just been published by Palgrave Macmillan.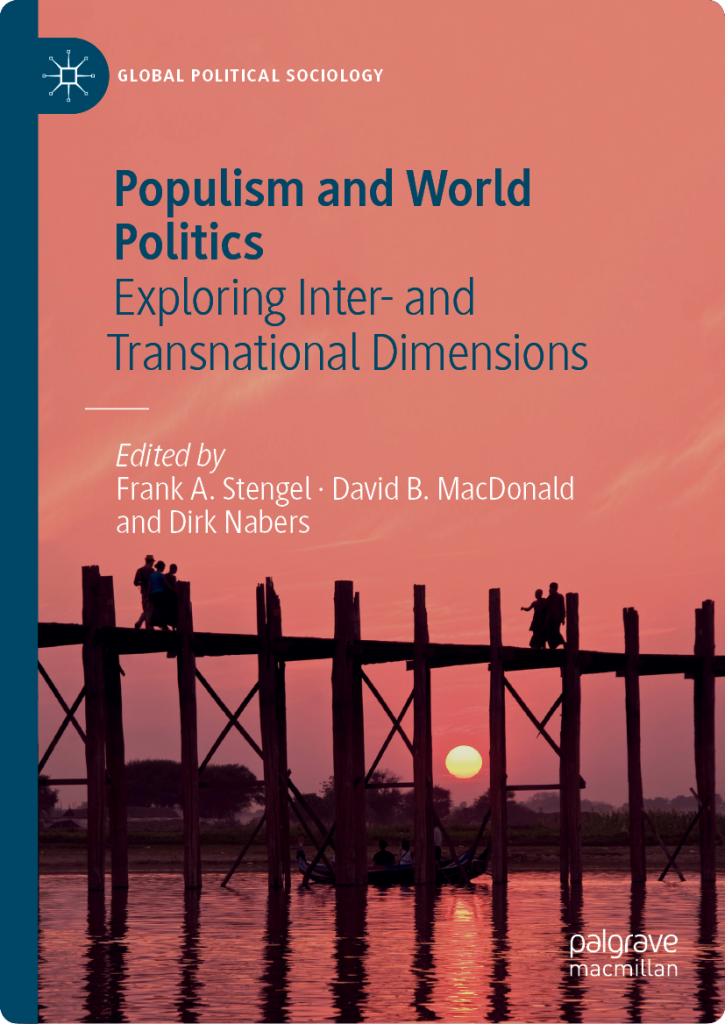 This volume is the first to analyze populism's international dimension: its impact on, and interaction with, foreign policy and international politics. The contributions to this volume engage conceptual theoretical issues and overarching questions such as the still under-specified concept of populism or the importance of leadership and the mass media for populism's global rise. They zoom in on populism's effect on both different countries' foreign policies and core international concerns, including the future of the liberal world order and the chances for international conflict and cooperation more generally.
The volume includes chapters by:
Jan Zeemann on the possibility of an emancipatory global populist project
María Esperanza Casullo on the importance of leadership for populist movements
Precious Chatterje-Doody and Rhys Crilley on global media and populism
Dirk Nabers and myself on sedimented practices in Donald J. Trump's election campaign
Brian Budd on Kellie Leitch's failed campaign in Canada
Grant Burrier on the impact of populist presidencies on trade and defense policies in Latin America
Daniel Wajner on the impact of classical populism, neoliberal and progressive neopopulism on Latin American foreign policies
David B. MacDonald on the foreign policy of Winston Peters's New Zealand First party
Thorsten Wojczewski on Modi's populist project in India
Robert Patman on populist challenges to liberal world order
Shane Markowitz on populism as a socio-material phenomenon in the context of genetically modified organisms
and Amy Skonieczny on the 2016 US presidential election's effect on the Trans-Pacific Partnership
The book is available online here: https://www.palgrave.com/us/book/9783030046200 or here: https://rd.springer.com/book/10.1007/978-3-030-04621-7
If you do not have access, please feel free to send me an e-mail.